A perfect way to treat friends, family, or treat yourself to a clean car!
Great Gift For Friends Or Family
Special Treat For Your Employees
Available In Any Denomination Up To $500 (In Store Only)
Never Expire & No Penalty/Dormancy Fees
How it works
Purchasing/Reloading – Duck Bucks can be activated or reloaded at participating car wash locations or thru this website. Choose the amount to initially load or reload. Then pay with cash or a credit/debit card. Keep your original activation and reload receipts. It's the sure way to protect your balance and get a replacement card if needed.
Using Your Gift Card – After your services have been totaled by our cashiers, they will swipe your Duck Bucks card for you. The cost of your wash will automatically deduct from your card's balance. Your remaining balance is printed on your receipt.
Cards ordered from the website
You can select the option to pick up your gift card at your nearest full-service location during the payment process. Cards ordered via the website are shipped from our corporate office, please allow 3-5 business days for processing and shipping. Cards ordered online Friday thru Sunday will be processed and shipped the following week from our corporate office.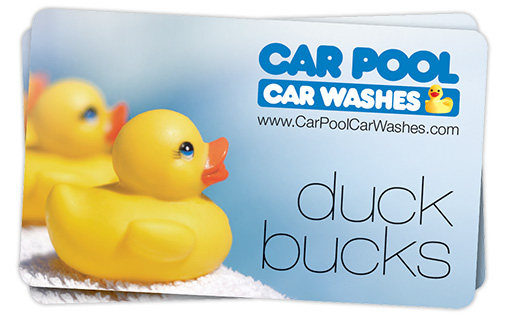 Lost/Damaged Duck Bucks Cards
Your Duck Bucks card has disappeared? Just be sure to keep your activation and reload receipts; you will need them to replace a lost or stolen card. For damaged cards, lost or stolen, call (804) 726-5405 ext. 306 to cancel and replace your card.
Do You Still Have An Old Duck Bucks Card?
We are eliminating the discounts given when you purchase multiple prepaid Duck Bucks Cards. Many of our regular users of the old style card may find that our Frequency Rewards Program will give a higher % discount than was available on the card. Please call (804) 726-5405 ext. 306 or email Feedback@CarPoolCarWashes.com to communicate any concerns you may have regarding your old card or our new gift card program.